Six Clicks
This morning was a hairwashing day so I needed to get up early. Good thing I have my trusty alarm clock (aka Cooper). He never fails waking me about a half an hour BEFORE my alarm is set. Today it was a good thing though. I got up at quarter after six and hit the shower. I managed to get all ready and the boys fed and dressed and had time to spare. We left earlier than usual and I did a coffee run before dropping the boys off at school. It was cold enough for indoor recess, so I got the boys settled in and got to work early enough to get a parking spot with a plug in.
The past couple weeks we've held a door decorating contest at our office in honour of the upcoming Olympics this weekend. The decorating deadline was today. Since my 'office' is the reception area, I don't have a door. I had planned on decorating the copier room door or a coworker's door that didn't plan to participate but I ended up teaming up with Amber, who has a door! I had chosen Canada as my country to decorate and in talking to my decorating partner got the idea to build an inukshuk out of Coke cans, since they're red and white. We also printed out a bunch of pictures and covered the door in cotton batting to resemble snow. Anyhoo, they had two people from the other two agencies in the building come in to do the judging. Guess who won? GO CANADA! Here are all the pictures from the contest: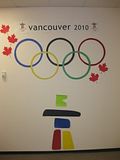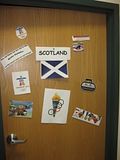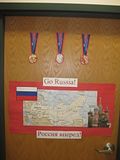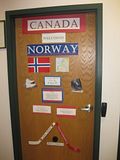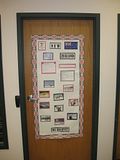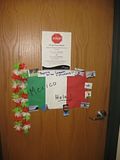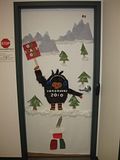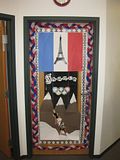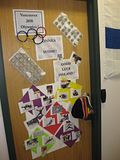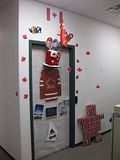 So that made it a fun day. Kelly and I had a quick bite to eat at Subway today. The afternoon went well. After work I ran to the grocery store to grab something for dinner. I picked up the boys and we came home. Chris was home by then and Carter wanted to play outside. Cooper just wanted to have snacks. He had oranges and yogurt while I started cooking. I cubed up and browned some chicken breasts and prepared quesadillas. Chicken and cheese for the boys and added jalapenos for Chris and me. Chris was still outside working on his four-wheeler. The boys loved the quesadillas (so did I).
Chris came in so that I could leave for my walk. I was just finishing my second lap when I saw Cindy. She's often there for the kids' volleyball practice. After my second lap she joined me then we walked ten laps together, even though she didn't have her walking shoes. I came home and Chris went out to finish working on his four-wheeler. The boys went to sleep fairly early so I started working on their Valentine cards. I stuffed all the envelopes and made matching labels for each. I also made cards from both boys for the day care teachers.
I managed to stay up late enough to watch Craig Ferguson again but I'd better be getting to bed! By the way I'm so proud of me for blogging again. I'm already looking forward to tomorrow. Yay for Friday! :)