Floral Delivery!
I neglected to mention something very important when I blogged on Friday. I received this beautiful rose at work from none other than Mr. Michael Bublé. I hope you can see the tag says, ''Love M.B.'' When the floral delivery lady showed up at my office, I said, ''Well I know that's not for me.'' Then she said my name and I said, ''Hey that IS ME!'' I was very excited. I opened the little envelope to find the card and realized immediately it was from my pretend celebrity boyfriend Michael Bublé.

I tried to call Kelly but had to leave her a breathless message with the excitement of the floral delivery. Of course I knew it was she who sent it...she came over to my office when she got my message and pretended she hadn't sent it. We had a few good laughs over it anyway and I bragged to all my coworkers that Michael Bublé sent it to me. :)


Yesterday my friend Leeanne came to town and we had our standing lunchdate after her hair appointment. We went for the East Indian buffet with Brittni and her darling son Henry. We all savoured the deliciousness of the food and had a great visit. After lunch Leeanne and I did some jeans shopping. I found a pair I liked but ended up buying a pair of brown pants on sale instead. I picked up a pair of jeans for Chris though, along with getting a great deal on some socks and underwear for him too. It was a ''buy one get TWO free'' deal. So for ten bucks I got what they would have normally charged thirty for. Not bad. He was a happy camper. I also got a bracelet and necklace in the deal.
Before she dropped me off I did a Starbucks run. Chris had taken the boys ice fishing and Chris had texted me to ask if I'd bring a helmet down to the lake. I found them right away. Chris needed the helmet for the boys to go for a ride on a mini snowmobile one of his friends had brought for his daughter to play on. Morgan gave Cooper a ride and it was so adorable. Oh and the snowmobile? Bright pink. Adorable. I took a picture on my cell phone...(it's kinda lousy but it's all I had with me.)
I came home and was very sleepy. I finished my latté and snoozed until the boys came home and even a little beyond that. We had sandwiches for supper (I was still full from lunch) and had a quiet evening at home. Cooper was asleep by seven (gotta love that fresh air!) and Carter was up for about another hour or two after. We watched the movie
Fireproof
. Fantastic movie. Every couple should watch it. After the movie I was a bit too sleepy to blog so I vowed to myself I'd catch up today.
Today we had planned to have our 'family day' since I work tomorrow on the actual day. Chris and I exchanged our Valentine goodies this morning then we got ready to go sliding. The temperature wasn't bad today but it was pretty windy. I decked myself out in all my winter gear, including an old pair of boots Chris found for me in the basement (I so seldom wear boots). I even wore a toque. My hair was kinda toast anyway. We went to the park to go sliding and then I realized I didn't have my camera. I took a picture and a video on my cell phone then decided it was worth the trek home to get the real camera. I came back and took these pictures and slid down the hill a few times. I was surprisingly toasty warm. The only thing that felt cold in that chilly wind was my forehead a little. Not bad.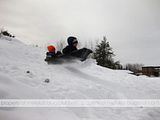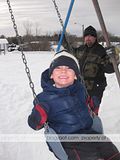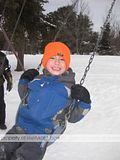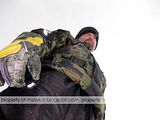 After we walked home from the park we took the boys to Tim Horton's for hot chocolate (and donuts). Carter's tongue was dark purple from all the sprinkles on his donut so I took his picture and in it his tongue looks like it just has a purple spot on it. Cooper had to get in on the fun too of course. :)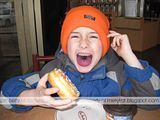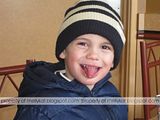 We came home and hung out and had lunch. The boys were napping when we got home after cruising around a bit. I decided to capitalize on their downtime and have a little nap too. I had plans to go out to Bingo tonight with Kelly and Phyllis though, and definitely needed to shower to rid myself of my ''hat head'' from wearing that itchy, snug toque all morning.

Kelly and Phyllis picked me up at about four-thirty. We did a quick pitstop at Tim Horton's and headed out. We left extra early since one of the special jackpots was about $42,000. Good thing we left so early because there was hardly anywhere to park when we arrived and the line-up to purchase cards snaked all the way around the bingo hall. We stood in line for about an hour. It was also a good thing that we darted up to the non-smoking section to save seats before going to buy our Bingo cards. We got to our seats and set up our cards and it was about the usual time we would have been doing so.

Well, as much as I'd like to say one of us won $42,000 and we each came home $14,000 richer, we didn't. But of course we still had fun. Our Bingo trips have become very few and far between and we had a great time.

Well, that took me over an hour to edit pictures and get all caught up. I'd better hit the hay 'cause I'm the only one that has to work tomorrow.