That's Hot!
It's been an amazingly gorgeous week. Sometimes at this time of year the ice isn't even off the lake yet. I'm loving it. Tonight Chris went boating with his friends and I cleaned out the kiddie pool for the boys. As it was filling, I used my mop bucket to carry hot water out to the pool to try to take the chill out of the water. That didn't work, but that didn't stop the boys from having a blast! I took a few pictures and played a bit with my camera as I watched them cavort all over. They started shivering when the sun ducked behind the house and garage.
I brought them in for a warm bath and fresh pajamas and a bedtime snack and movie. We all cuddled on the couch and watched
Ratatouille
.
One of my Facebook friends mentioned how my boys look like twins. I don't really usually see any major similarity between them, but since I had a shot of both of them in a similar pose/lighting, I did this morph and noticed they do look a little alike; their eyes are definitely the main area of similarity. :)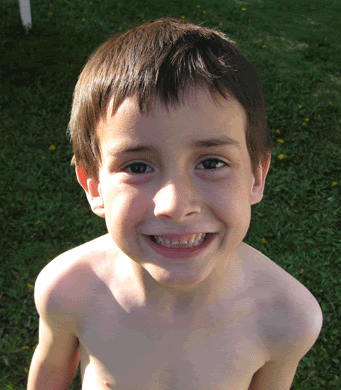 I zonked out on the couch with them for a bit. Chris came home and went straight to bed. I seemed to recall a time when I used to blog daily (and occasionally more than once a day) so I decided to post some pictures of our evening. Hopefully this weather holds up and I'll keep things going!